Phew, well May has come and I am excited for all the possibilities that will come at the end of May. Lots of time with my kids, lots of time to plan out my next year, lots of time to organize files, and lots of time to be a mom! I am excited for the summer to come but at the same time there is a lot to get done before the summer break.
Well here is my currently for the month of May. Always glad to hook up with Oh' Boy 4th Grade.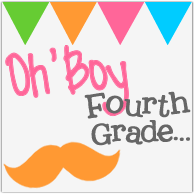 Little more detail.....
Wanting- I am hopeful that my students this year will do a bang up job when they enter 2nd grade. I have worked very hard this year on all that I could with each little kiddo. I have tried my best, as I do each year, and now can only hope my hard work payed off and that the kiddos will enter 2nd with a sparkle.
Needing- Tomorrow I will go to my 2nd out of 3 of the 5K's that I have signed myself up for these couple months. This one is Run For The Zoo and my girls will be running (walking) with me. It's a very relaxed run/walk 5K and should be loads of fun. We do it every year and love it. At the end of the run we walk around the zoo and get lunch there. It's always a load of fun.
Bucket list- We will be camping galore all summer.
We are camping our way from NM to Idaho and then to Montana to visit family.
We also plan on spending time at the pool for swim lessons and just swimming fun.
OH, so much fun to come!!!
Happy May Everyone,
Amy